It's that time of year again…Perch Pro. The lack of sun and fishing is really hurting… To cover the worst pain we get by through blogging, lure making and in general preparing for the coming open-water season. The the best fix though is fishing vids.
Youtube is a dear friend and one of the highlights the last years has been the Perch Pro competition on Kanalgratis. When we found the first edition it was with no expectations at all but it really turned out being an jaw dropping, very exciting show that opened our eyes for the excitement of perch fishing. Now it's time again and the 2017 edition will start running Jan 1 and will end with a bang at the fishing cruise Feb 7. Fantastic! And I think you can count on us being there documenting the event;-)
And to add to the excitement, an additional team – team Sporting – is participating :-).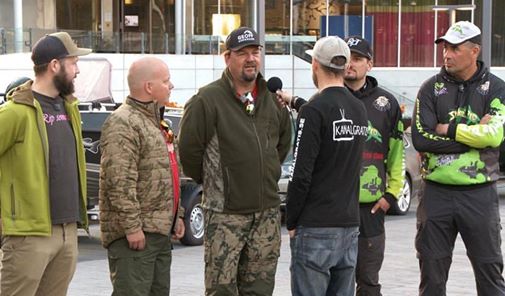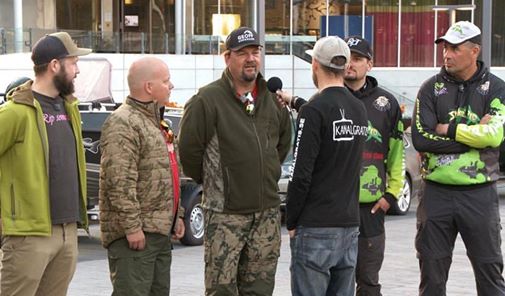 We are pumped 😀 and full of questions:
Will there be stalking between teams this year as well?
Will the fly-guys get into the numbers game?
Has the international team Gunki/Illex gained enough local knowledge to truly be contenders for the cup?
Who is the new guy in team CWC?
Who is the new team???
And of course…  Will The reigning champs Stockholm Fiske&Fritid prevail and be able to fend of all competition this year as well
Some of the questions we will be able to answer now and some in the coming weeks. Last year we were fortunate enough to interview all the participating teams and we had the same luck this year!!!
The teams participating are:
Team Stockholm Fiske & Fritid – Tom Backlund & Linus Raners – last years winners
Team Gunki/Illex – Frédéric Jullian and Thomas Engerts – last year runner ups
Team CWC – Albin Sharghi and Evert Oostdam
Team Vision/Fly Dressing – Daniel Bergman & Steffan Jensen
Team Sporting – Stephan Nielsen & Janne Kortelainen
But before we go into the interviews – that will come in due time. Besides the show and the competition for the cup there are some matches inside the big game we will keep an extra eye on:
Which factory team will be the most successful?
Team Gunki/Illex or Team CWC?
Which fishing store will be the most successful?
Stockholms Fiske&Fritid or Sporting
Which technique will be the best?
Spin-fishing or fly-fishing?
Which tactic/rig will be the most succesful?
Cranking? Fly? Texas? Carolina? Jigging? Drop-shotting? Jika? Neko? other?
Who will be the most succesful visitor?
We have three competitors not having Swedish homewaters – who will tackle that in the best way?
Evert Oostdam
Frédéric Julian
Thomas Engert
Who will be the most succesful Dane?
Steffan or Stephan?
Who will have the biggest screw-up?
When you are fishing, and especially under pressure feeling tired, things are bound to go wrong. What will happen this year?
And finally – who will be the most succesful store manager from Sporting?
Albin Sharghi used to be store manager for the Sporting Store in Örebro. The man taking that position after was… You are right – Janne Kortelainen. Now they go head to head 🙂
A lot of fun matches to be played – unfortunately we will not be able to get all the answers but we will for sure keep track of what we can.
Stay tuned for more fun facts, interviews and the other usual stuff you can expect from us att FiskeFürAlle. Since several teams have english-speaking participants we decided to have two language versions. We already no apologize for the Swedish version. Some claim Magnus doesn't even speak Swedish (he's from Skåne… ;-))
//Magne
Ps. We hope you haven't missed our other interviews in the series on perch fishing during to fall. You will find our interviews with other Perch pro Teams https://www.fiskefuralle.se/?s=perch+pro
If you like what you've read, pls follow us in Social media to get heads up on posts and news
Link to Facebook here
Link to here
Insta: Look for fiskefuralle Ds.