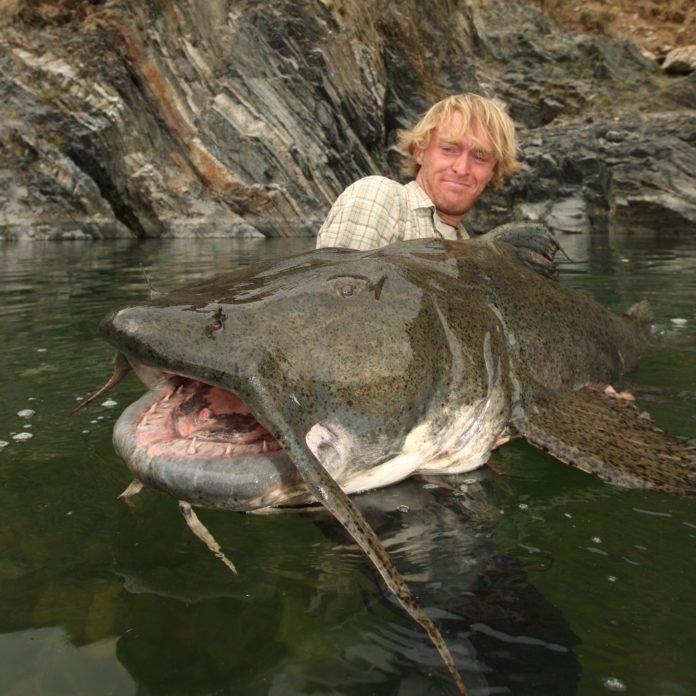 The sportfishing fair 2017 in Jönköping not only broke record in number of visits, but also offered the chance to meet international fishing blue blood such as Trueglide and this man: Jakub Vágner aka "Big Fish Man".
Jakub Vágner an adventure fisherman, world record holder, host of several TV-shows including "Big Fish Man" on Animal Planet and owner of Katlov lake fishing resort. In short an international fishing superstar. It was not without a small amount of nervousness that I (Magnus) ventured over to Jakubs booth for a chat.
The worries were of course totally in vain. I met a very calm, kind and humble Jakub with an impressive dedication and mind-blowing fishing stories.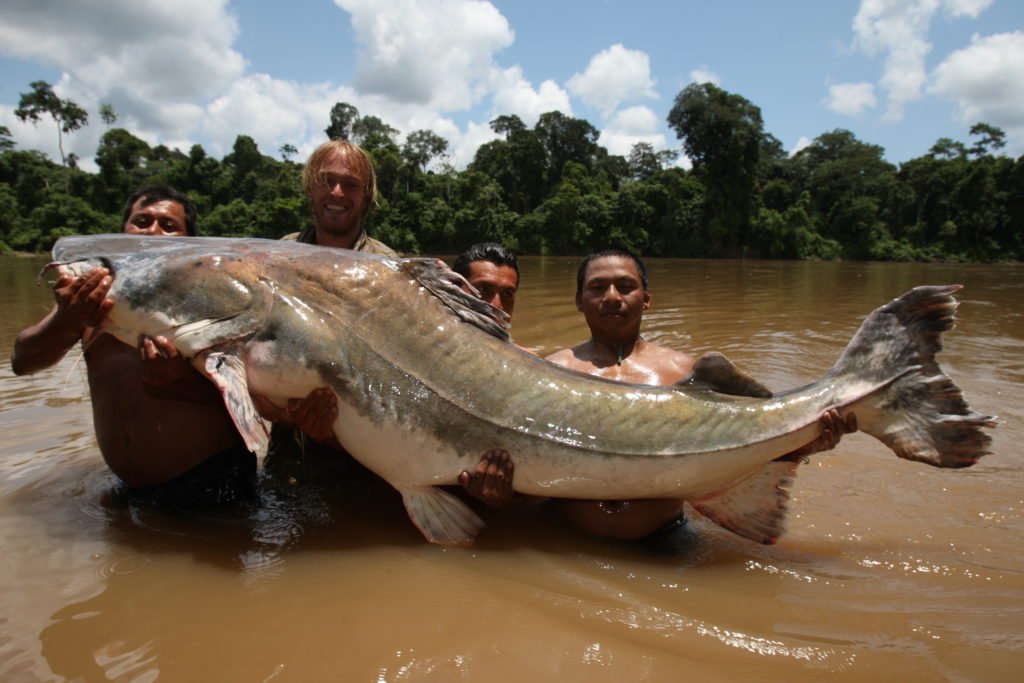 Who is Jakub Vágner, a short introduction
Despite "only" being 35 years old, Jakub has already spent 17 years travelling the world for adventurous trips and record breaking fishes. Born and raised in Czech republic by his Czech father and Swedish mother, Jakub was an aspiring musician when he, to his fathers big annoyance, decided to abandon his musical future to go on his first fishing adventure.  Jakub says " When I was younger I saw the world through a narrow tube. I could only see the fish in front of me, nothing else. Then I started to travel and as time went by I started to realise that the anaconda, living with natives and so on was as good as the fishing itself Nowadays fishing is icing on the cake. I travel more for learning new places, the animals, and the natives."
Jakub – you have an impressive list of catches on your track record. Tell us a bit about that
"I have made a list of all the freshwater giants in the world. There are 24 species of freshwater fish that can reach a weight above 100 kg and a length above 2 meters. I have caught 21 of them and I am still chasing the last 3 but I do not believe I will be able to catch them all. One of then, the Chinese Paddletail may even be extinct" says Jakub. "It is really sad… The way we treat the environment and our planet really makes in impact to the negative. We are destroying water and habitats all over that especially affects these large fish. Most likely half of the species will disappear during this century…".
The travelling and adventures has seen Jakub catching some real giants. He is holding several IGFA world records including Arapaima (130kg and 3 m 7cm), Wels Catfish (110kg) and Devil catfish or Goonch, (75kg – the image on the top). The record catches also includes a Piraibia (Lau Lau) of 215 kg.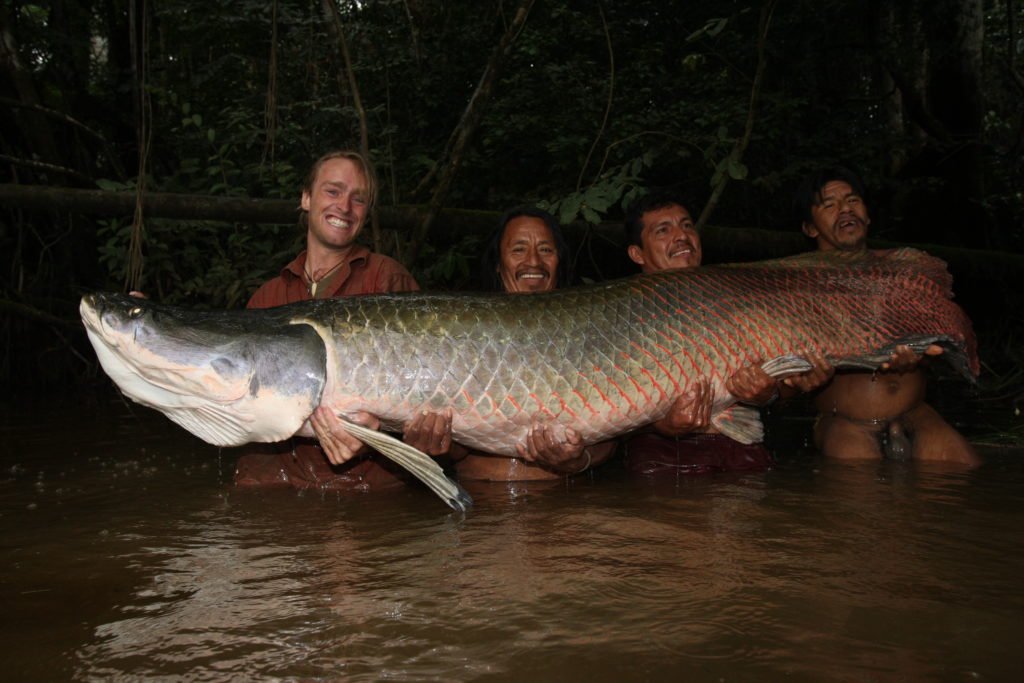 Goliath Tiger Fish
However, there is a fish where Jakub does not (yet) have the world record but keeps him coming back: The Goliath Tiger Fish of the mighty Kongo river.
"Fishing for Goliath Tiger fish is really one of the toughest things you can do…You will maybe catch 1-2 fish per trip. And the only way to succeed is to suffer. It is so frustrating. It is like fishing hell. You are sitting there in your small boat… 3 km to the shore to the left… 4 km to the shore to right… You are sitting there in a strong current… using two rods with baits maybe 30 cm long and you are fishing a very small population…The fish can be everywhere."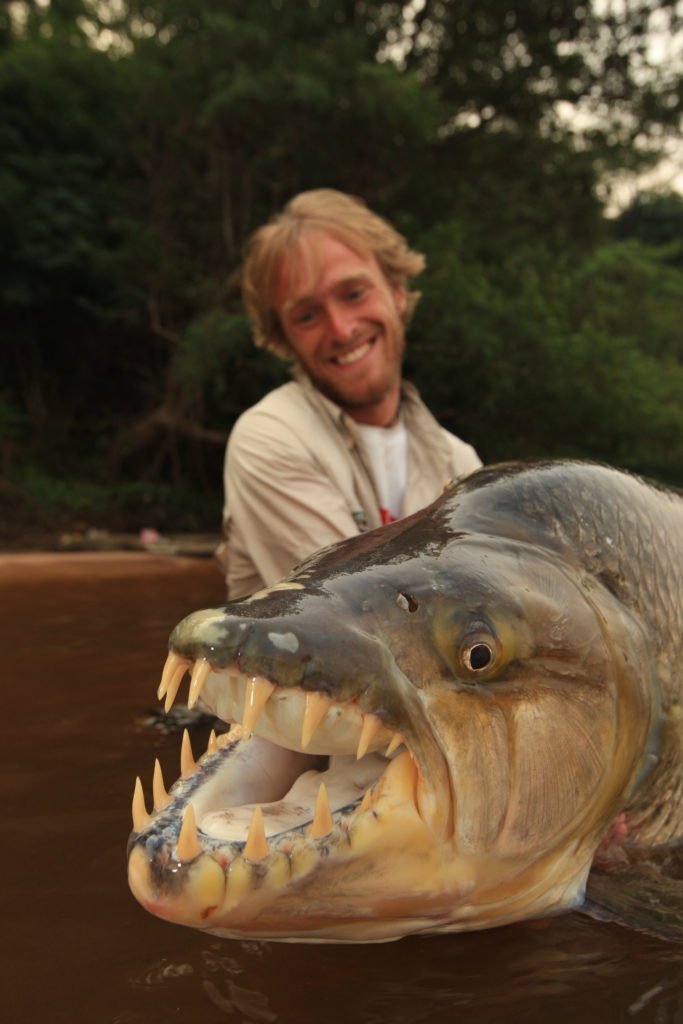 "And if you manage to get a fish to take they usually come off. You only will land a very small part of all fish you hook. You can easily go mad. Like last time I was down there. I was fishing for two weeks without a single take. Then my reel started going "weeeee".
I went there and pulled the rod trying to set the hook and the fish was gone. You could really see it in the clip, I wanted to throw everything overboard. Then one minute late the second reel goes "weeeeee". And the same story repeats again. Two fish lost in one minute… And then I did not manage to get any more contacts for the following 2 weeks."… Jakub says with a painful grin on his face.
"And that is the fishing. On top of that on shore you have people that can kill you… And the the other things… I have been bitten by snakes, I have had Malaria 7 times, suffered from River blindness and Elephantiasis. I have spent 14 months on the Kongo river and more than three years in the Amazon – of course things happen…"
How do you plan for new adventures?
Well I always try to leave the beaten path. If most people go left I go right. I don't do camps and lodges. If you do so you will never be first, you will always be second and all the really big fish will be gone.
I like to be beyond the borders. It's not always safe, funny or easy but if you try to live like that that you have an amazing privilege. You will be able to fish waters with great amount of fish and fantastic wildlife. Fishing is living – a way of life.
I have travelled and fished in some really dangerous places. I like brutal places because of that no one else is going there. I have fished for Barbel in Syria, I have been to Iraq, Iran and so on. Not the nicest places on earth but untouched.
When I go, my main priority is my crews safety. I have been travelling with the same crew for the last 17 years. When we started travelling we all were young and free. Now everybody besides me have wives and kids. It is my responsibility to make sure they make it back home again.
When I have found a new destination the first thing I do is to go on a research trip. I go by myself, without crew to check out the fishing and the safety. Only when I have confirmed the fishing and especially the safety, I bring the crew!
Having travelled the world for fishing – what is your favourite destination?
To be honest I start relish my home country more and more. I have been all over the world searching and now I realise that the Czech republic is one of the most beautiful places in the world.
What is your favourite fish to fish for?
I must say the Goliath Tigerish, because everything is so brutal. But in Europe I am really into both fishing for catfish and big pike. Nowadays I fish only for specific fish – I go that one fish. That is what I enjoy!
What are you working on at the moment?
I am filming all the time. I have 2 prime time fishing shows and one for kids. I work a lot with kids nowadays. I really focus on the kids. They are the future. I think it is really sad that kids do not know the names of trees, plants or animals. I mean they are good with laptops but somehow you need to know and understand the nature in order to respect it. That is really my main target. Last year I gave lectures to 50 000 kids plus I gave speeches on 15 different nature and fishing shows.
Besides that I am running my fishing resort at Lake Katlov.
Lake Katlov – what is that?
It is a lake, or now actually two lakes. The second lake just opened. It is located 14 km outside the beautiful city of Kutna Hora. Kutna Hora is appr 70 km outside Prague. It is really a beautiful city and should you be interested in not only fishing but also history and architecture, Kutna Hora is well worth a visit.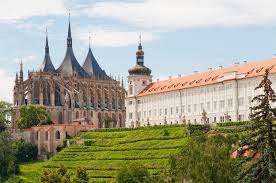 We have now two lakes that you can fish. The Carp lake and the Catfish lake. In the Carp lake there are a lot of carp with the biggest around 30 kg. We have Grass carp, Zander, Pike and Tench.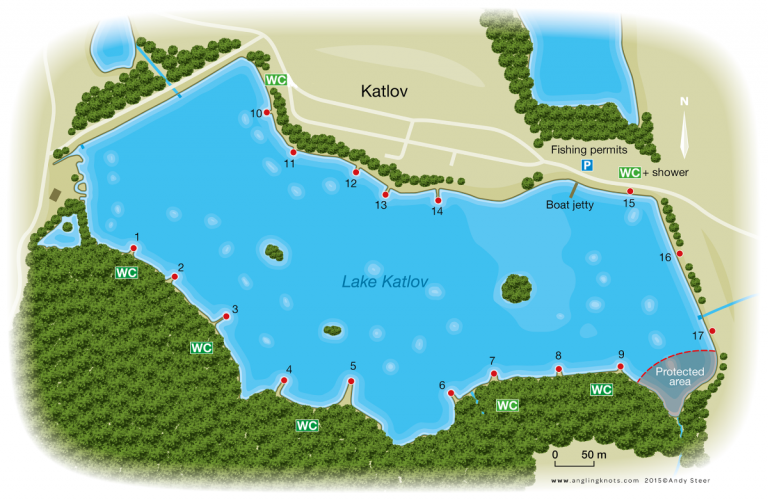 The new lake is the Catfish lake where we fish for Wels Catfish. The average size is about 60-65 kg. The current lake record is 256 cm and 115 kg but there are even bigger fish. It is really cool fishing. We are not bottom-kedging like in the big rivers. No, we are spinnfishing for the catfish. Very similar to the way you fish for pike, with big rubber baits. It's really exciting.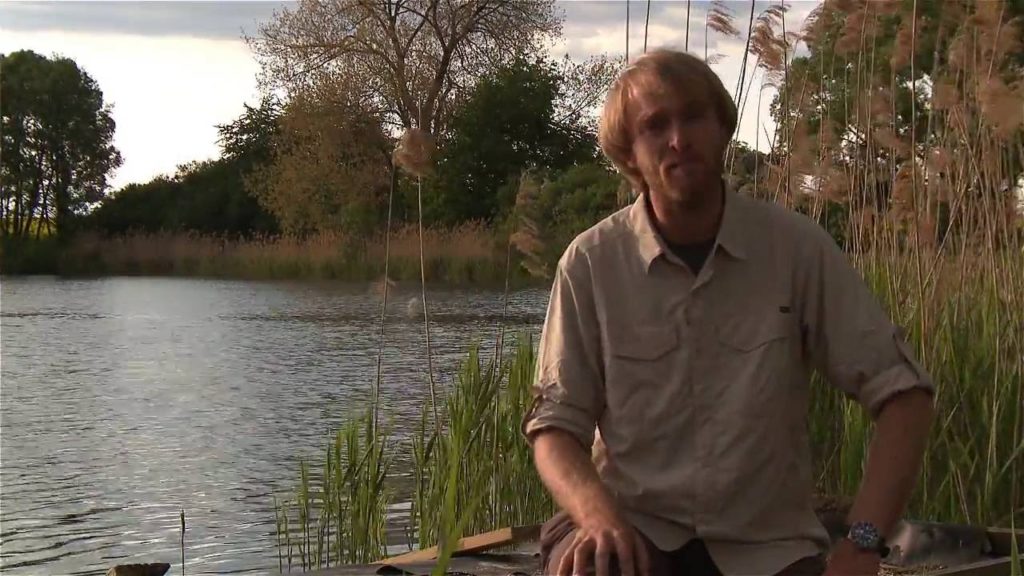 We are trying to open a market in Sweden. We think we have a good offer. We have good fishing, easy access and good prices and the season is long (from April to October). For a weeks fishing, accommodation, all meals, all drinks all tackle, and boat you will pay 7540 SEK. You get picked up at the airport and 40 minutes later you are fishing and drinking pilz 🙂
Thank you Jakub. We at FiskeFürAlle are very happy for having spent the time with us and we have already started planning for a trip to Czech republic 🙂
/Mange, Danne & Peter
 Ps. Som vanligt – kom ihåg att följa oss på sociala medier så får du den fulla "FiskeFürAlle"-upplevelsen. Vi finns på Facebook, Youtube & Instagram Ds.