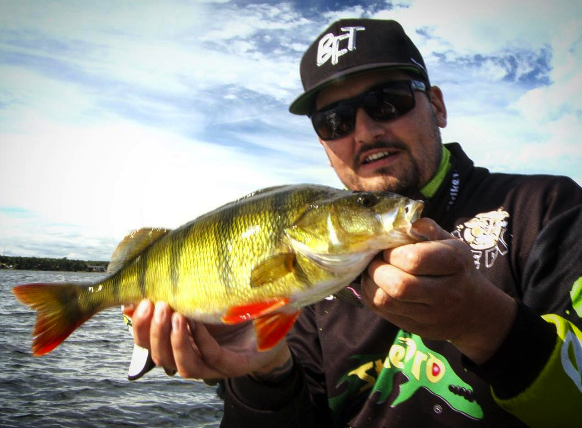 This time we spend some time with Albin Sharghi from team CWC. Both Albin and me have been having a really tight schedule lately but finally we managed to find a suitable time for us both. Albin was heading home, stuck in the Stockholm rush hour after a busy days work. For all of you that have had the pleasure of enjoying Stockholm rush hour know that it can take a while finding your way out of the city together with a few 1000 other cars, meaning we had plenty of time 🙂
Perch Pro time again – how does it feel to be back?
Awesome, of course!
At the same time a bit nerve-wrecking. A lot of presige goes into this. But we are also very pumped, not to mention hungry for revenge. It't time to win now! It all feels good and even more exciting to have a new partner in the boat this year,  Evert Oostdam.
It's always fun to fish with a new person. Evert bring his experience and new angles on the fishing which is really valuable input when we are fishing together. We only had four days of practise together but still it all worked out great.
Evert has 24 years of military experience and he is very strategic and structured. We treat the equipment the same way and it is alwasy nice and tidy. We didn't really know that much about each other before we met but the chemistry was good and everything just worked out great. Already on the very first day you know if it is going to work out or not.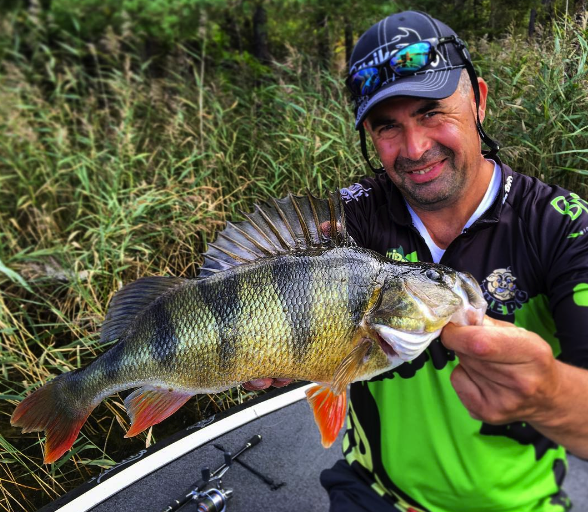 What's the difference between this and last year?
Well, first the competition is even sharper that before with already several teams having done this before. On top that another team is participating giving a total of five teams. It's more competitors and competition simply put.
That makes it harder and we know that all teams are very skilled anglers that knows what they are doing. Any small, minute detail may change the game totally and of course also the scoreboard.
From my side I am more prepared than ever. That includes everything from technology to gear and own preparation. But no matter how prepared you are, you are a slave to the conditions. If the fishing is tough, it is tough no matter competition or not.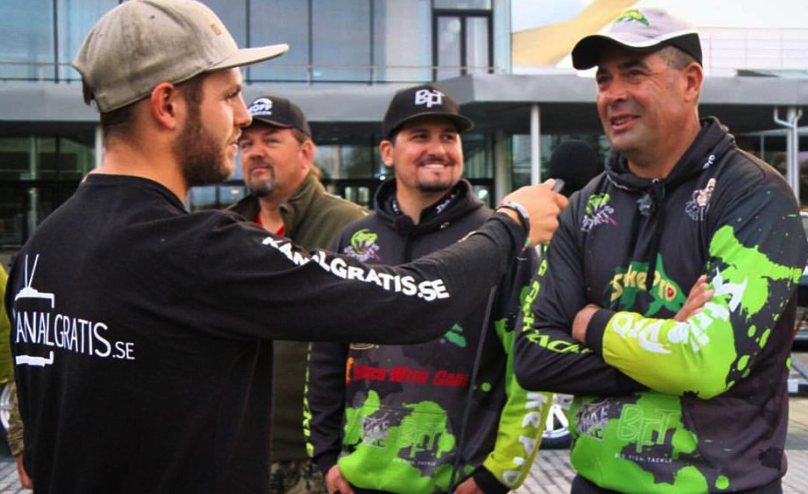 Before we get deeper into Perch Pro – what is your view on how perch fishing has developed during the year? Has it even evolved?
Definately! I has evolved a lot since last year. Besides a lot of fishing, also the product development has been intense this year. New products that supports new methods and covering more different scenarios. That development has simplified fishing quite a bit
Besides that I have changed a bit coming to fishing techniques and tactics. I use hardbaits a lot more than before. Also jigging and dropshotting has evolved and now I think more in scenarios. I have for example one tactic for covering water and one for tickle the fish up. Normally these go under the names of power fishing and finesse fishing.
But to put the spot light on one thing especially – hard baits is the shit!
How much have you practised?
We haven't really trained that much. You can't train that much and have a day job at the same time. It has not been that much unfortunately.
But since I fish all year round as long as the water is open I have collected experience during the whole year. I think that counts as practise. Of course it is not the same fishing in the summer and in the competition period in September, but still…
I have been trying to keep myself updated on areas and sports and how the fishing is in different locations. A bit of recon as soon as the opportunity arrives.
But we managed to get some training together the week before the competition in conjunction with Evert coming to Sweden. Of course it became a bit more intense then.
The week before the competition we trained for four days straight with long hours. The fifth day we rested. That can be a game-changer during the competition but still you also need to rely a lot on what you have tested during the season.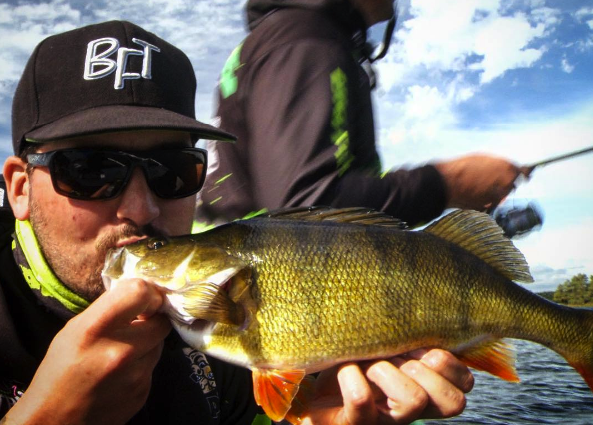 How did you pick sports during training and competition?
First and foremoste we have checked spots we belived in. It is mainly big areas with a lot of interesting conditions for fish like coves, holes, points et c. There needs to be everything – that is important.
Since the competition is in late summer, it is important to be mobile and move around quickly.
We started training in areas we did not know that much about. I had all the spots since it is my "home waters". Of course Evert is not on top of Swedish waters. Atleast not then. We tested two different areas to evaluate. We wanted to do it like that not to use too much time on transportation. But it is a lot of driving around in the boat, looking for sports.
How do you do to find your working pattern of the day?
Since we are two fishing at the same time, we have the opportunity of trying different techniques to see what is working. Initially we try different baits. Let's say one is jigging at 2-2,5 meters of depth and the other one using hard baits at 1-1,5 meters. We also try different volors. If one catches the other one switches to that as well. During the competitoin we found that basically only one or two colors worked.
The gear
For this edition of Perch Pro I use a Nitro Z6. It's a great boat that allows you to cover big areas quickly. On top of that it has a lot of space to fish from. It also has a lot of storage space allowing you to keep your structure on the equipment. The livewell allows you to keep the fish in the boat. It saves time not measuring, weighing and counting all the time. You can store the fish – keep on fishing and then do all the maths in one goe.
Let's not forget electronics. Electronics is key. You need to understand the electronics and how they work. Then it allows you to scan big areas instead of stopping in all spots to get the verdict on whether the spot holds fish or not.
… and the trolling motor – how important is that?
When competing it is really key in order to get everything working smoothly. You and move around easily and keep your attention on having the bait in the water:
Myself I use a wire-controlled trolling motor. It is just that faster in control and gives you the opportunity to fine-tune you direction while drifting.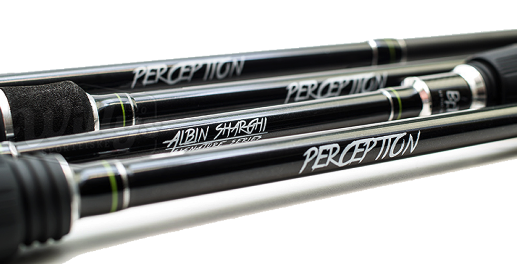 And the fishing equipment? What did you use?
We exclusively used rods from BFT. I only fish with rods from the perception-line. Evert uses both perception rods and BFT microwave-rods. We have slightly different set-ups. Evert uses 90% spinning reel and 10% baitcaster whereas I use baticasters 80% of the time and spinning reels 20% of the time. I use among others a new baitcaster from BFT with a very shallow spool, perfect for perch fishing. It will be launched this year.
We have about 4 rods rigged, ready for action at an instance. Just make sure you are ready for changing quickly to new conditions.
7'6" 5-20g Jig & Baitcast: That's my primary rod. I use it with a baitcaster for hardbaits. A bit deeper action allowing you to charge the rod a bit more while casting giving you those vital extra meters in each cast, even with light tackle. It is also a forgiving action helping you fighting the fish. You will not loose as many fish on short line. This rod I use 80% of the time in Perch Pro 2017 throwing a Cranky X Deep or a Flap Jack to cover a lot of water and localising fish. POWER FISHING!
7'3'' 10-30g Power Jig & Twitch: A spinning rod with extra fast action = a good backbone for setting the hook while fishing off-set hooks or a more heavy wire single-hook. A real jigging rod in my opinion. I fish the piglet with either the normal round jig head or the new BFT Triple S-head on this rod. You can power-fish it as well but since since jiggin requires more rod movement and focus on the line we used this rod mainly when we had located the fish and wanted to fish more thoroughly and slower (not as in drop-shot slow but not as fast as hardbaits). A kind of Finesse-fishing for this time of year and conditions!
7'3'' 10-30g Power Jig & Baitcast: Another reel for baticasters that is as quick and stiff as the spinning rod above. I use this rod for blade baits and bigger rubber baits such as the Tumbler Shad 13cm. When you are fishing with bigger baits or baits that requires hard twitches this rod is perfect!
7'3'' 5-15g Light Jig & Dropshot: The dropshot rod I use more during late fall, winter and spring. But it is always a good idea to have a dropshot rod ready for all seasons. If the fish is stuck in tight quarters and difficult to get to bite, dropshotting is usually the way to go!
Every combo has their own function and situation!
Baits
Coming to color during training we basically only had a few working colors. On the piglet shad it was witout a doubt Baby blue shad and motoroil!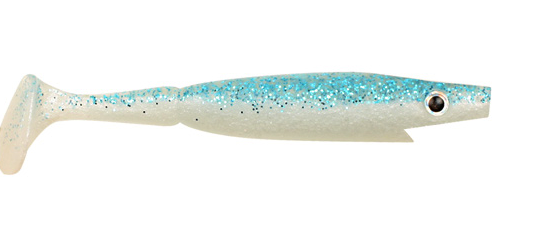 Coming to hard baits mainly Natural Perch was the one that got a lot of time in the water. You have already seen a lot of this bait in the earlier episodes, together with rainbow. A glittery blue and pink thingy that worked really well.
The models of hardbaits we mainly used where the new Strike Pro Cranky X Deep and the Flap Jack. Cranky X Deep, diving to max 2m an an average cast (with braided line), is 50mm long and weighs 8,4g. It's a crankbait with excellent casting distance thanks to the integrated weight/balance system: Flap Jack is a rattlebait or lipless crank weighing 14g, casting to the moon and fishes all the way from 1m to 4 depending on how long you let it sink A very versatile bait!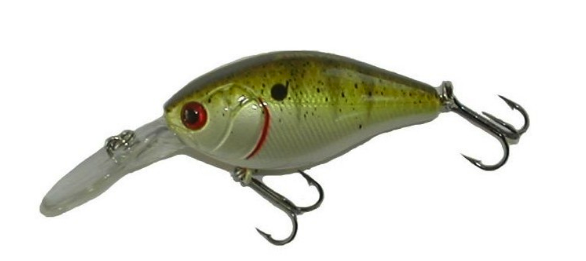 When I am throwing crankbaits I use a 0,10 mm braided line. I really tells you EVERTHING that happens on the end of your line. On the braided line I add a 2 m leader in 0,28mm Fluor carbon. This line and leader combo with a rod with medium action (in this case the Perception Jig & Baitcast) is a really good combo for the Cranky X Deep and Flap Jack.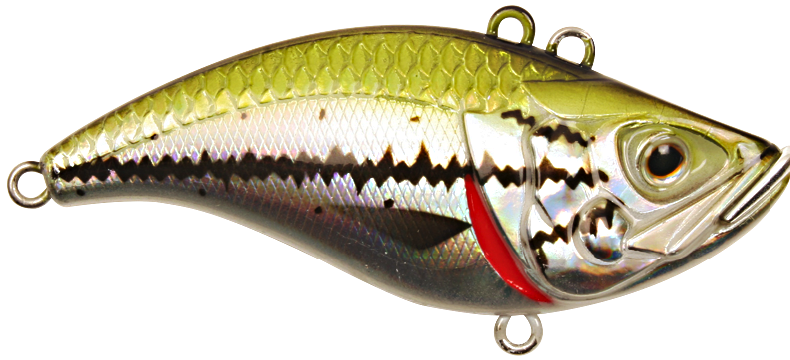 Rember! The key to good perch fishing is variation. With that set-up we came fully prepared.
Of course we hade an ocean of baits. A box with hard baits, a box of jigs, a box for dropshot, a big box of terminal tackle such as rigs and jig heads. On top of that we had a gamebox!
GAMEBOX? – Now we are curious – what is a GAMEBOX?
When it's game-time we use a gamebox. In the gamebox you keep the baits that has been working the best during training. They are the first-line of baits during the competition. It is usually a smaller box not containing that much gear that is easy to keep up in the boat
You simplify for yourself, simply put. 
If you would look in my gamebox during filming I hade 3-4st hard baits, two colors of Piglet Shad and a small selection of jig heads (5, 8 and 10g round heads together with 5 and 10g BFT Triple S-jig heads). The only other terminal tackle you could find in this box whas a bag of small Fastache-beteslås.
Last year there were stuff everywhere! This year there is much less gear but it is the right gear and above all, well organised!
Las but no leas – are you coming to the fishing-cruise?
Defintely! We will be there – do not hesitate to come over and chat a little. It's going to be a blast!
//Danne, Mange och Peter
We hope you haven't missed our other interviews in the series on perch fishing during to fall. You will find our interviews with other Perch pro Teams https://www.fiskefuralle.se/?s=perch+pro
If you like what you've read, pls follow us in Social media to get heads up on posts and news
Link to Facebook here
Link to here
Insta: Look for fiskefuralle