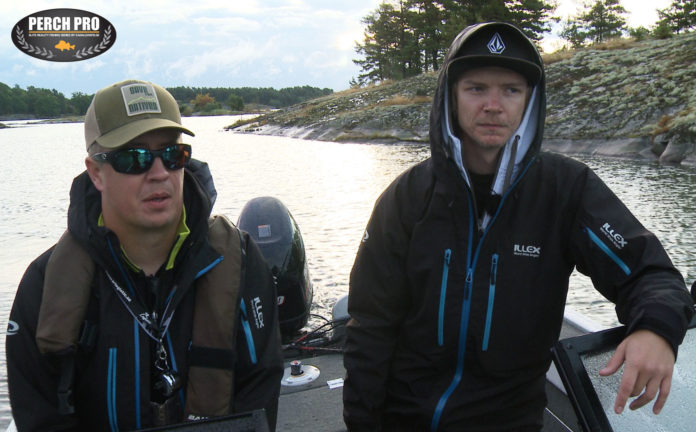 Perch Pro has now entered to the most exciting part of the competition (if you read this before the actual final of cause). This is the part that we can call the "dark part" – the part where the contestants don't have any clue about the other teams fishing. There are no more reports.
They all know how their own results and how the perform but nothing about the other teams fishing. In other word this is excruciating and no one knows the results until the final episode that is going to be sent from the fishing cruise. Last year the final was at hard Rock Café in Stockholm with all the teams were present and where Stockholms Fiske with Tom Backlund and Linus Raners was the winning team.
Stockholms Fiske & Fritid was inches from from winning the first year in an epic battle and last year the brought the cup home. They have really shown that they can catch Perch and I must admit it is with a fair amount of respect I (Mange), just landed at Arlanda call Tom.
Tom, it's time for Perch Pro again. Third time lucky? What is it that makes you coming back?
Well it's probably that competition instinct again. It's just that simple. The feeling of being in the competition. It's damn fun to put in plain language.
Then we also have to defend our lats years result. We are going to whatever it takes to keep the trophy. When you defend your title you have to put even more effort into it. But at the same time it's an individual competition as well. All teams are able to choose their own fishing turf… But in the end, we want to win…again!
In what way have you noticed last years win?
It's been kind of crazy actually! It has been Perch-mania all during 2016. Both when it comes to guide-trips and when it comes to the store. Really insane. Last year I fished for Zander a lot but this year it has been Perch 100%.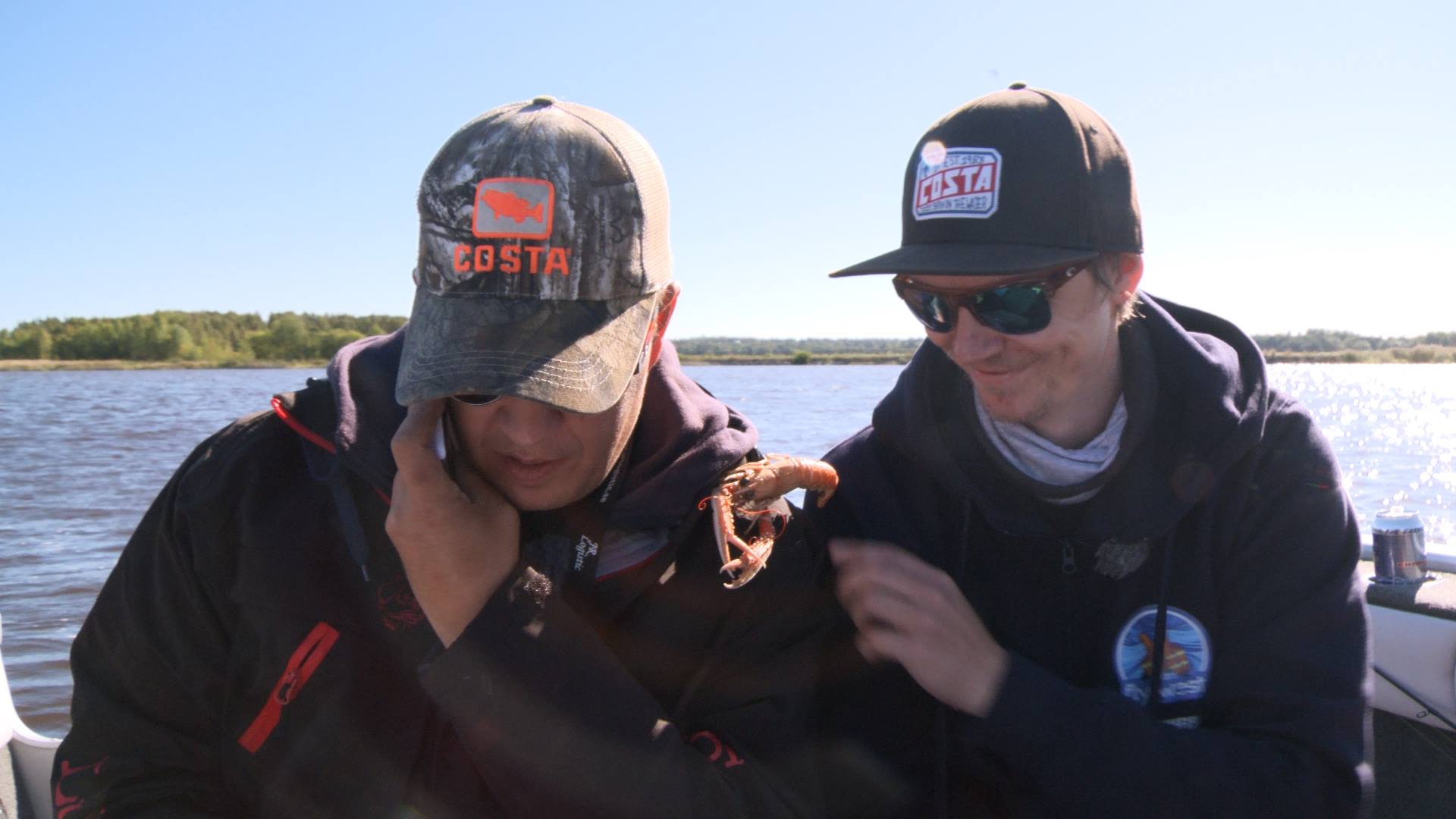 In what ways do you feel the Perch fishing has developed during the year?
First thing I have noticed is that everyone are upgrading their gear. People are ready to spend up too 5000 SEK for rods and reels and baits for 10 000 SEK or more. Having that said, I think it is really important to also mention that the modern equipment also means more and bigger catches.
All due respect to the classic reflex spinners and nylon lines that people used to use back in the days but it's one simple rule for all of us – You get what you pay for! The new stuff that is out there on the market actually helps you catch more fish. One way to see that is the amount of BIG fish that are caught now compared to before. If you had asked me back then, ten years ago, I would never have believed that you could catch these amounts of fish as we do now when we have "cracked the code"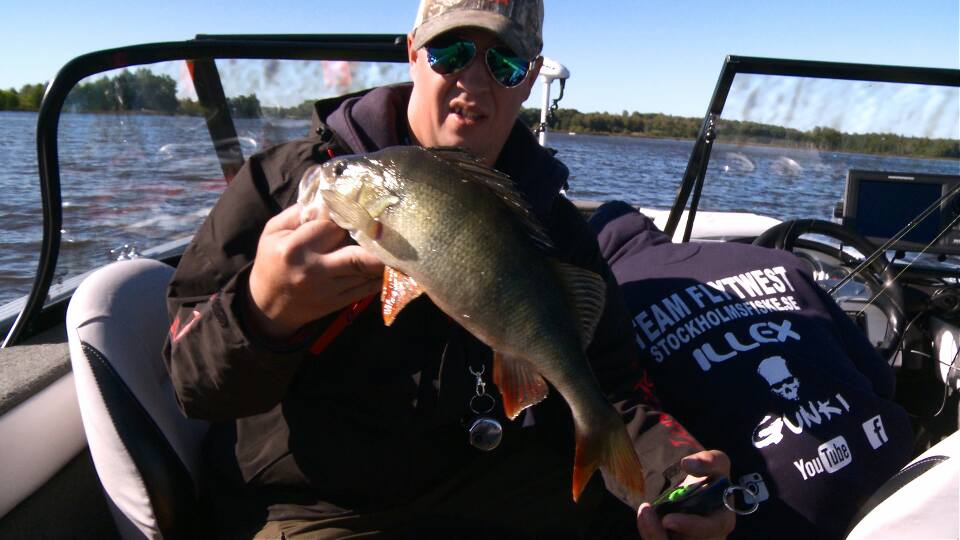 You have partly yourselves created the Perch-maina. I am thinking of Stockholmsborren…
Well, yes… Stockholmsborren went very well and we think we have an exciting format. "The winner takes it all" kind of competitions always triggers. And we will develop it even further. We have a new cool concept that will trigger even more. The competitors will be  even more nervous this year ;-).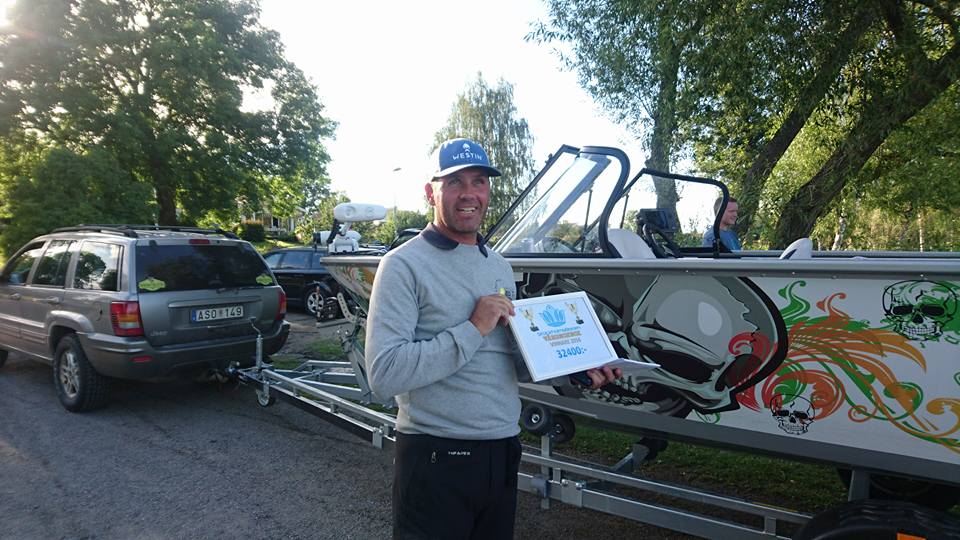 What in Perch fishing have you learned during this year?
I learn things all the time when I am out fishing. My strong conviction is that the moment you think you have learnt it all, you are on a slippery slope. I keep testing, pushing and challenging myself all the time and try to learn new things.
I have put into system that every time I hit the water, I will try atleast one new thing. Whether it is a new spot that looks interesting, a new technique, a new bait. Something new. And I am very stubborn. If I find a spot or an area that looks interesting I can keep coming back 20 times or more. Practise makes perfect…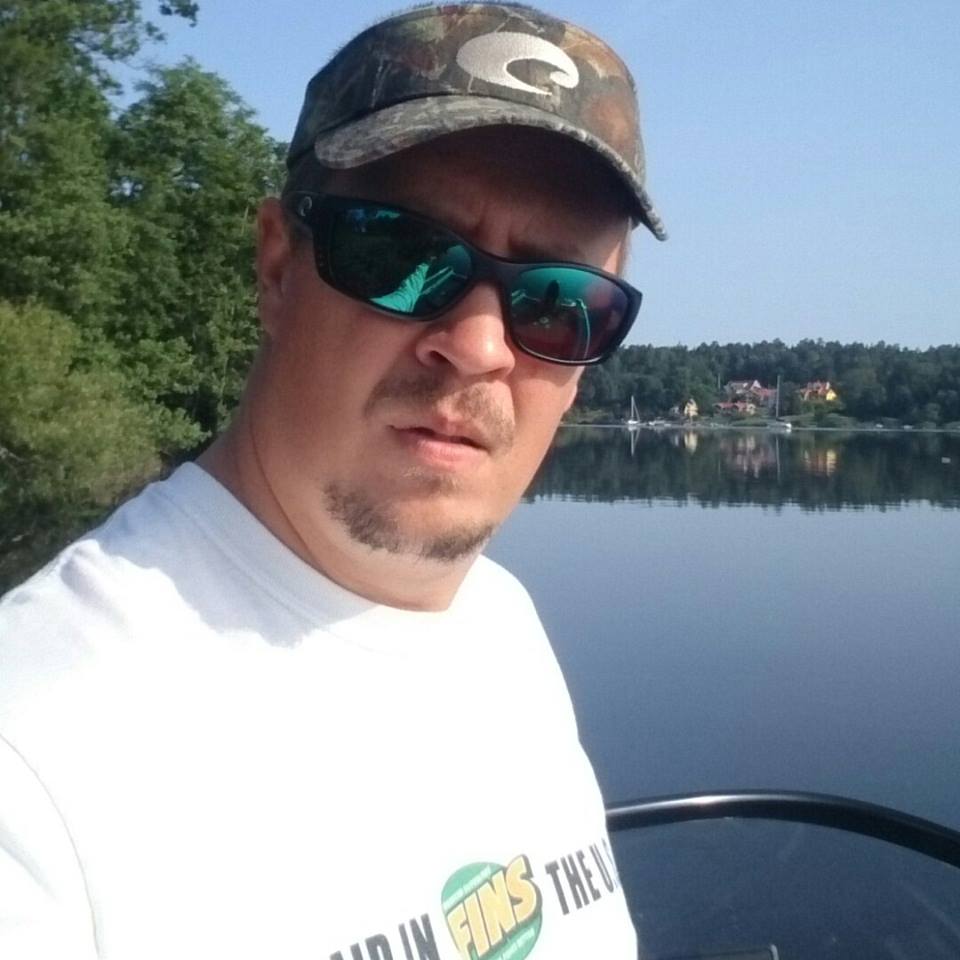 How is it fishing with Linus?
It's fun. Really fun to fish with Linus. He is like a stand-up comedian. There is always something stupid going on. He's a bit like the Swedish equivalent of Bill Dance. Write that! Hahaha – Linus will love me for several days after this!
Editors note: If you do know who Linus, sorry, Bill Dance is. Here's a short introduction:
We work really good together and we really have loads of fun fishing together. He could work on his english perhaps 🙂
Linus: How is  fishing with Tom? 
I fully agree with Tom. We work very well together and we always enjoy fishing together. Too bad he cannot fish… But, someone in the team need to catch the numbers and sizes hahaha! And his english could use a re-fresher
OK – let's talk Perch Pro? What was your game-plan this year? Any tactical changes?
We thought we should try a new body of water. We wanted to put up a show and add a bit of excitement. But also to really highlight the perch fishing versatility. Basically you can have successful Perch fishing all over Sweden.
We have already shown that you can catch a lot of fish in Lake Mälaren. Last year we showed that you can catch both number and size in southern Sweden so we thought "ok let's head north this year and fish a new water". We want to showcase that that you can basically fish anywhere. I guess that next year we have to go inland and fish some like 🙂
How have you prepared? Any differences vs last year?
Not really. I do a lot of guidning. That means I get a lot of time on the water so in reality I get a lot of preparation along the way. But honestly, it does not matter that much where you fish. If you know the basics it comes down to finding the fish.
When it comes to gear and baits we are constantly testing new stuff. I am a novelty freak in constant search of new things to test. Then of course it's like always. Some things find a permanent place in my tackle box and some things find a permanent in the waste bin. That's exactly like we work in the store. We only sell stuff we use ourselves. Nothing else hits our shelves.
Speaking of gear – what set-ups do you use?
Nowadays I only use Shimano reels. I have tried most brands but I have not come across anything that matches Shimano. Our main set-up is with baitcasters and we use Shimano Metanium DC HG (hi gear) size 150/151. They are insanely good. There is no better reel on the market. DC = a digital control unit that assists you throughout the cast. You can throw baits in any way or direction you want, even in headwind with no risk professional overruns. 
Speaking of rods it's Illex and Lucky John we use
Any new patterns you have found succesful?
We have started using hard baits much more than before. We used a lot of cranks, wobblers and jerkbaits this year.
Jerking for perch is really fun and exciting. Illex has some mini-jerks that are totally awesome. Dexter jerk 70. They are brutal. And as a small bonus these jerk-baits work very well for both Asp and Pike as well. The bonus-catches are really exciting. It is exactly the same technique as jerk-fishing for pike. Jerk, jerk pause – BOOM! The takes are normally very aggressive and come during the pauses, just like with Pike. You do not need any special rods for jerk-fishing. The baits are not that heavy meaning you do not need stiff rods. I use baitcaster gear with rods with 10-30 gr class from Illex or Lucky John…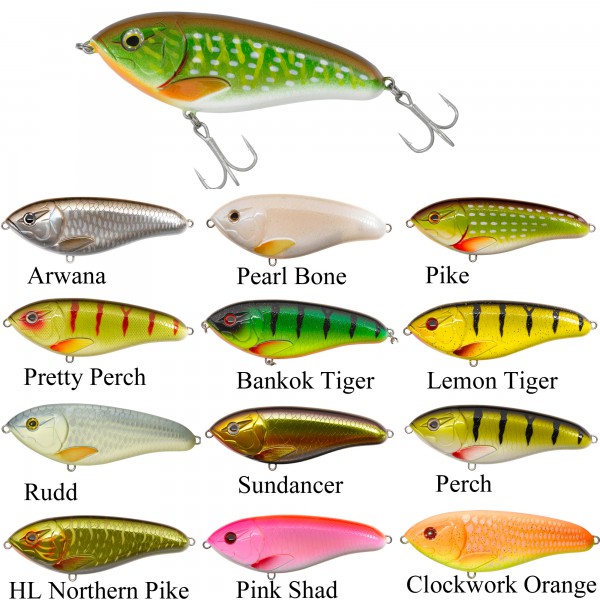 Coming to cranks – Lucky John's Anira and Gunki's Dogora has been working really well. The Anira I fish really aggressively and you get aggressive strikes during the pauses. One of the benefits of fishing hard baits in comparison to jigs are that you can fish in more shallow areas without risk of hitting the bottom. In the archipelago the perch likes to lurk around shallow areas with a lot of sea-weed. With hardbaits you can fish these areas much more efficiently.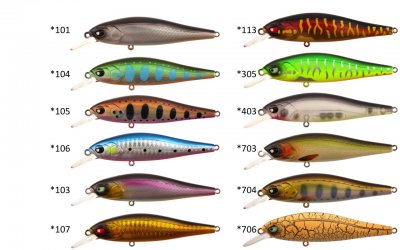 On top of that I have found that hardbaits works very well when the jigs has stopped working. If you are at a spot and the bite is down – take a hardbait and the bite is on again. It's just like the fish change behaviour. This year is going to be the year of hardbaits for Perch!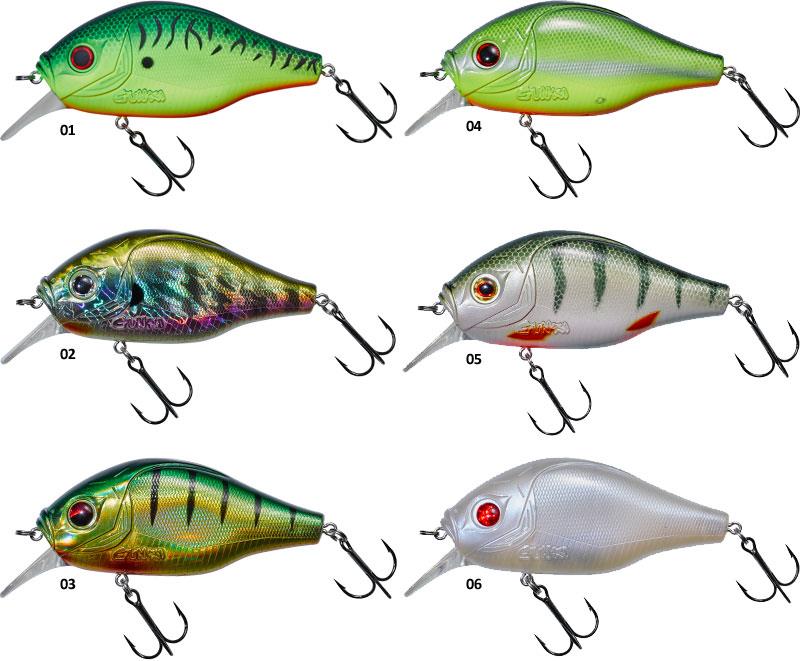 Lucky John is not that common. What kind of brand is that?
Lucky john it is a Latvian company. The stuff is European made but the majority of the development is done in Japan. It is really good gear for really for a fair amount of money.
What's your comments on the competition so far?
Well yes up until last episode we, the teams, already knew the results but now it's becoming even more interesting. I must admit that we are slightly disappointed by the results so far. We were close certain that we would catch 500 Perch per day minimum but that has not been the case (yet). We had extremly good fishing during training but we also seem to be the only team experiencing a cold front. If you look at all the other teams they have t-shirts and we are in full uniform with jackets. But what to do???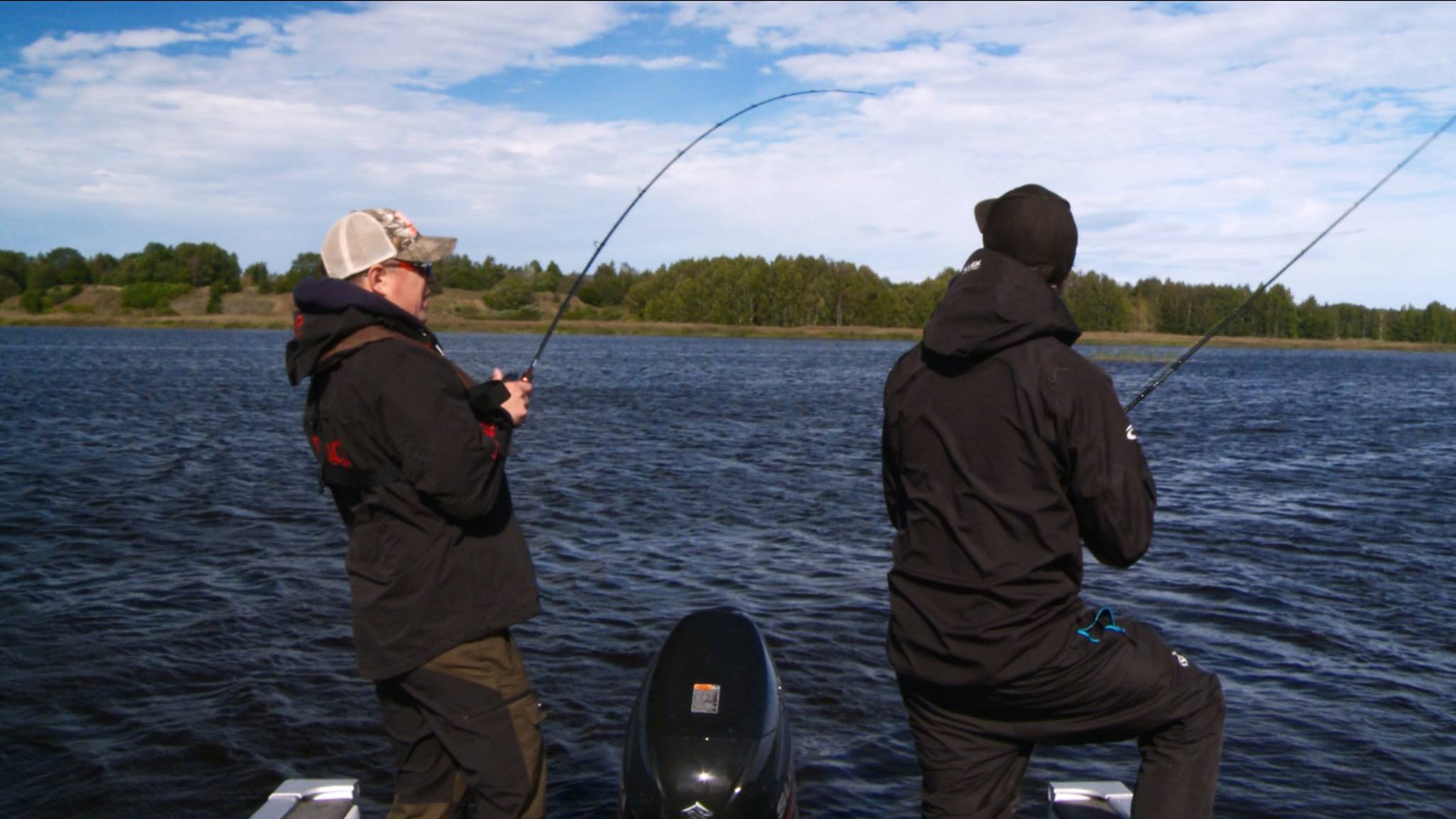 Any exciting screw-ups?
Things happen all the time. Screw-ups is a part of fishing. It happens every time you are out. You forget stuff, drop stuf overboard, get over-excited when you see the bite is on in the other side of the bay and forget the rocks between… It's an everyday thing really. That is what happens when you turn 5 years old again and that is really how I am when I am fishing!
Finally – will you join the fishing cruise? 
Most definitively – we will walk around mingling. We are there to enjoy the ride and have fun… And see the final… of course. I am lucky I may even drink a beer or two 🙂
//Mange, Danne och Peter
If you like what you've read, pls follow us in Social media to get heads up on posts and news
Link to Facebook here
Link to here
Insta: Look for fiskefuralle