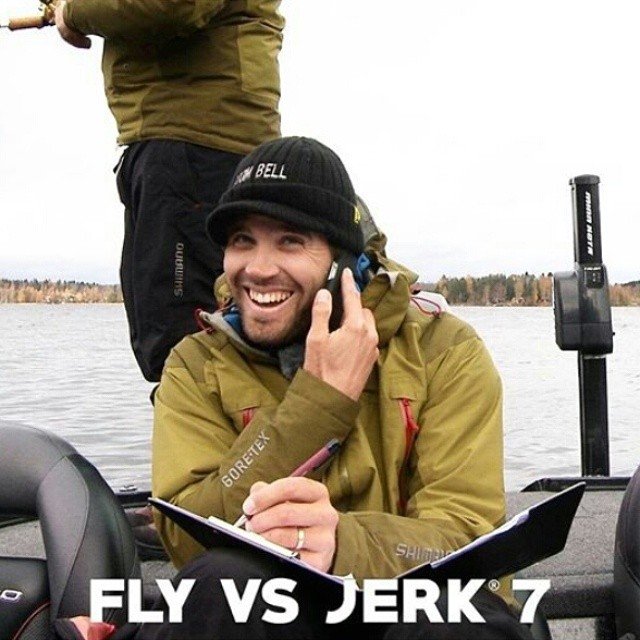 Fly vs Jerk is a format that we really love. Last year the theme theme was "The World is Watching" and it really felt right, like the world was watching and Fly vs Jerk was top of minds for most people  (Pike anglers or anglers that is, not the general public maybe). The final was pure magic where basically the last fish, after three days of full on fishing, decided the outcome. Evelina Henriksen and Claes "Svartzonker" Claesson had a magical day with over a 100 pike in the boat one day, and then on top of that burned a lot of pike as well (according to initiated people). These two went straight through the box with there devotion, charm and Claes temporary insanities paired with two winning minds
It's a love-hate relation to Fly vs jerk every year- something you wait for during a tough time of year with no fishing for most – to become a few weeks of "little Christmas fever" every Friday at 20:00.
In recent weeks we have deeper with the participating teams of this years edition of Fly vs Jerk. We have previously met The Vision Team Sweden, Team CWC, Team Vision Finland and now the time has come to meet last and final team of the competetion: Team Storm / Shimano with Mathias Holgersson and Jesper Norell.
Have you for any odd reason  (that we really can't think of of but anyway) missed the previous posts you can find Team CWC here ,  Team Vision Sverige here och Team Vision Finland here
As of this writing, The race is not settled, and our hope is that by a little more background on top teams so the experience is even closer and it feels as if it's a friend who stands and fishes, we all have our favorite and now  we will give you the opportunity to get to know Jesper Mathias a little closer, probably unknown for the most of you out there, at least for me so here we go:
Let us go in depth with Mathias, who are you?
I'm a guy of 31years who are passionate about almost everything fishing that Sweden has to offer. However, pike, perch and zander are the ones that get the most time. Much depends on me, everyday I run a fishing resort in Falun where the main targets are these species. In addition to fishing, the photography and the family that is the great interest.
Mathias is a humble gentleman, as you will notice, we think it is clearly visible during the Fly vs Jerk, and even in this interview, the truth is that Lake Runn Fishing Resort Mathias driving has received the award for "Best guide service" of one of Europe's leading magazines.
What is it that drives you go fishing?
I fish for pike and are almost obsessed with fishing. Must be the hunt, new waters, the take and that it is never easy. It may fail and must fail to feel both joy and learn when you really succeed. And how was it that, that was not really a single event which triggered this, but it just grew.
What does your competition out history, some of us know you from Perch Pro 2014?
I have not competed too much, just a couple times. The first bit bigger competition I partaicipated in was the World Predator Classic in Holland. It went reasonably well, a win for the biggest pike in the last day.
And it doesn't hurt that it was a very beautiful pike that had everything you dream of. You know, abdomen, back, aggressive, neck, the adrenaline, the shit and it gave us a taste. All the emotions that come under such stressful situations and the increidble joy is really amazing.
Otherwise, it's Perch PRO 2014 you mentioned that I and my good friend Henry Karlén successful won in the end, after many ifs and buts. This year, it is time for the WPC Classic in Holland again where me and Jesper are a team, we look forward to it.
Why do you compete, what is it that drives you then?
When I compete, all feelings are so much intense, you have the joy, the sorrow and adrenaline based on how you fish and what the other teams report. Like in Ep 3: You had a really tough fishing, and you think a lot about how all the other are doing. Then comes a report that the biggest fish are like3 kilos. The relief and frustration of these figures reflect your own fishing and give a warning.
What were your feelings about Fly vs Jerk 7?
Before Flv vs. Jerk 7 stared I was not even sure that I could participate. I have experiencedsome back problems throughout last season. Mentally, we were more than ready, we were given what we would do and had the plan, equipment and fire. But at the same time to compete with Niklaus Bauer Drum and the other veterans is a bit scary;)
Tell me how it feels to be in such intense competition that Fly vs Jerk is, we are many pike fishing out here around the country that are quite exhausted after a full day hunting on the lake, on when you drive on for 3 days?
It is a tough competition. You don't catch too much sleep and then the intensity of the contest affect you. Having a camera that is 30cm from your face 12 hours a day does not make it easier.
You're more or less a factoryteam- tell us more about the equipment you use?
We mostly use spinning reels Shimano Calcutta kind to all fishing of 60gr rigged the relativelyy strong rods to run the hook in a good and efficient way. But at the same time, I always have a pair of custom combinations of rod / reel for different lures and weights. For our smaller R.I.P shad fish I fish with a spinning rod: a Yasei or Biomaster and a 4000 reel.
The electronics can we see is a great tool, how do you use it?
The electronics are incredibly important to me, 80-90% of my fishing, I am fishing in deeper water than 6m and it gives me invaluable information. Therefore, I have multiple devices that work with different views / functions, 2D-SI-360 and the map. One feature that I use much shallower water is DI for locating different types of seaweed that is hard to 2D.
We usually ask for some tips to develop our own fishing, you have a few must-haves you want to share when it comes to pike fishing?
1. Be prepared for your fishing, will be much more enjoyable and often better results
2. Never take short cuts on the main line and leaders. Of course some times they will break, but minimize the risk!
3. Do not go after the old habits, try instead to understand the "why" instead .
4. Your local fish shop usually has a good knowledge of your particular home waters and what usually works. Go there and suck in your data and process them
Over to Mathias teammate Jesper Norell, Head of Sport Fishing Division at Normark, how long have you known Mathias?
I and Mathias have not known each other for so long but we've fished a few years more or less together. The best story we have been together so far, is Fly Vs Jerk. But there is also a Northern Norway adventure in the storm and broken GPS, with a crazy cod fishing in historybooks. Having that said we may have the greatest adventure together still in front of us when Mathias and I'll be a team in the WPC classics in June / July that is held in Holland .
How did you get into the sport fishing Jesper?
My fishing history is long, it began when my father took me a day off fishing when I was three, I had to borrow his rod and the cast was something like 5 meters, but I managed to catch my very own pike. It was has hard to get it out of the water but there and then I became an angler.
What is your competition experience like compared to Mathias?
I have competed a lot in younger years, mostly in match fishing and ice fishing, with success, I say, many competition wins and championships medals.
I have in recent years been addicted to  pike fishing, and I must say that it is the take from a large pike that make it a fanatical search. The take!!
Always fun to get to know a new team in Fly vs Jerk, which means that you get to learn new techniques and tactics, how was it that you set up this year?
We lined up in Fly Vs jerk for several reasons, of course, we want to try to win and capture respectable pike, but it is also a good way to present Normark for the crowd but also showcase the skill of our Rapala / Shimano ProGuides.
Did you get a nice taste for next year or was it a feeling of never again to the checkered flag?
Who knows, we might pop up in the next season too, there is a bit of the fun in Fly vs Jerk that everyone agrees on little secrets.
We in FiskeFürAlle looks fiercely forward to seeing all the participating teams again during the fair but of course also during the banquet and during Friday evening. We still enjoy the atmosphere of the finals of the Perch Pro event at the Hard Rock in February
Are you in Stockholm on Friday, so we hope to see you on Afterparty at Enzo / Ballroom with dinner at 19:00
Fix the party and click here – Entre every 3 days included -english link to buy ticket available
Well meet
//Peter